Hey guys!I'm Rin, and I manage this blog named【Eat, Play, Travel】
In this article, I would like to introduce "Ueno hara farm CADORE"🐮🥛
(上ノ原牧場『カドーレ』)
In this farm, you can touch cows, goats, and other animals. You can buy & eat fresh cheese cakes. You can eat fresh hamburgers as well…!🍔❤️
And also there are other places you should go. Let's check! 😇
"Ueno hara farm CADORE"
"Ueno hara bokujo CADORE" is a farm which is located in Fukutomi City, Hiroshima Prefecture. 🐄
They have regularly events such as having flee market, serving deserts only for short term…😍
You should check the information on their website.
Information
Name:Ueno hara farm Cadore(上ノ原牧場 カドーレ)
Closed:Every Monday(If Monday is the national holiday, the Tuesday is closed.)
Time:10:00-17:00
TEL:082 430 1381
Address:Limited Company Uenohara Farm Cadore, Kamidakeni 605, Fukutomi Town, Higashihiroshima City, Hiroshima Prefecture
広島県東広島市福富町上竹仁605 上ノ原牧場 有限会社カドーレ
HP:Ueno hara farm Cadore website
Eating @ Cadore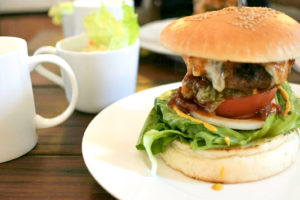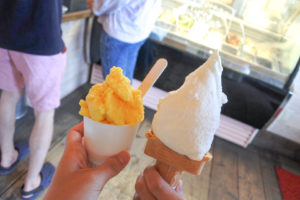 First of all, speaking of Cadore, "Gelato" is the most famous thing, right? 🍦😋
They have a lot of kinds of gelato.
I bought "Mango Gelato" and my friend bought "Fresh Milk Gelato."
Mango Gelato is great of course, and Milk Gelato is very very milky! Thanks to the farm!
Actually, they have not only Gelato, but also food such as Burgers and Pizza.
Especially, I love the burger because it contains a lot !!! It is very difficult to eat cleanly. 😂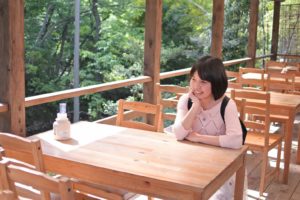 Experiences @ Cadore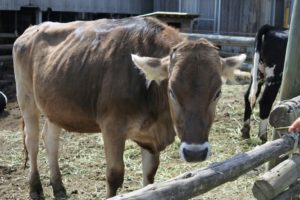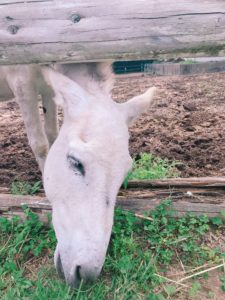 Of course they have animals such as cows, horses, donkeys, goats, sheep, and rabbits! a lot!!!
We can touch them, and feed them as well 😇
(You can take grasses from ground, and feed them 😂 🌱)
If you have any children, they would love it. 🐰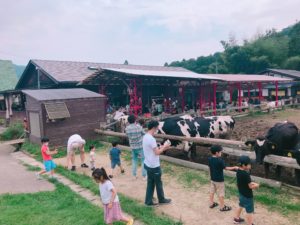 Buying Souvenirs @ Cadore
There are some shops which sell cheese cakes and sweets at Cadore farm. They use fresh milk from cows they have🧀 
I'm sure that you will find the shop because it smells very good👍
You can buy cheese cakes, puddings, gelato…. for yourself and for others as a gift😇
They have their online shop also. You can check it now !
上ノ原牧場カドーレのウェブショップ(WEBSHOP)
Other Spots near Cadore
I would like to tell you some places which you could visit when you go back from Cadore to your house❗️
Kuroboya Fall・クロボヤ峡
You would find the sign which is written "クロボヤ峡" at the deepest place of the Cadore farm.
If you would like to go to Kurovoya Fall, you go to the mountain deeper and deeper.
You will find the beautiful river and falls. You can stop your car and play 😇
From May to June, there were natural beautiful rhododendron flowers. 💠
It is the narrow mountain road, so it may be dangerous if it is raining. Please be careful 🙂
Go to the page written about Kuroboya Falls
Michi no Eki Fukutomi・道の駅 湖畔の里 福富
Michi no Eki is a shops with a big parking area and is only in countryside.
Michi no Eki Fukutomi(道の駅福富)has a big park with some huge playground equipments, so if you have children saying "Not enough!!!", here is a good choice to let them play ❗️
Also they have a big dam & lake, so if you can come here for date.
You can spend peaceful time here☺️
I, personally, recommend you to buy this snack from Thailand🇹🇭
I don't know why they sell Thai food, but they always have it.
It tastes simple sesame & oil. I feel relieved when I ate it😋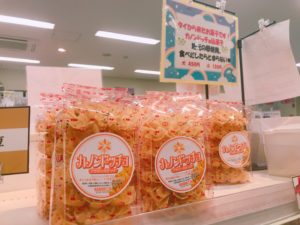 Message From RiN
In this article, I wrote about "Ueno hara Farm Cadore" where you can enjoy food, experiences with animals, and nature.
If you have children, or come here for date, this place would be very nice❣️
In this blog, I write about "eat" "play" and "travel."
I am happy if you could see other articles, Thank you!❤️