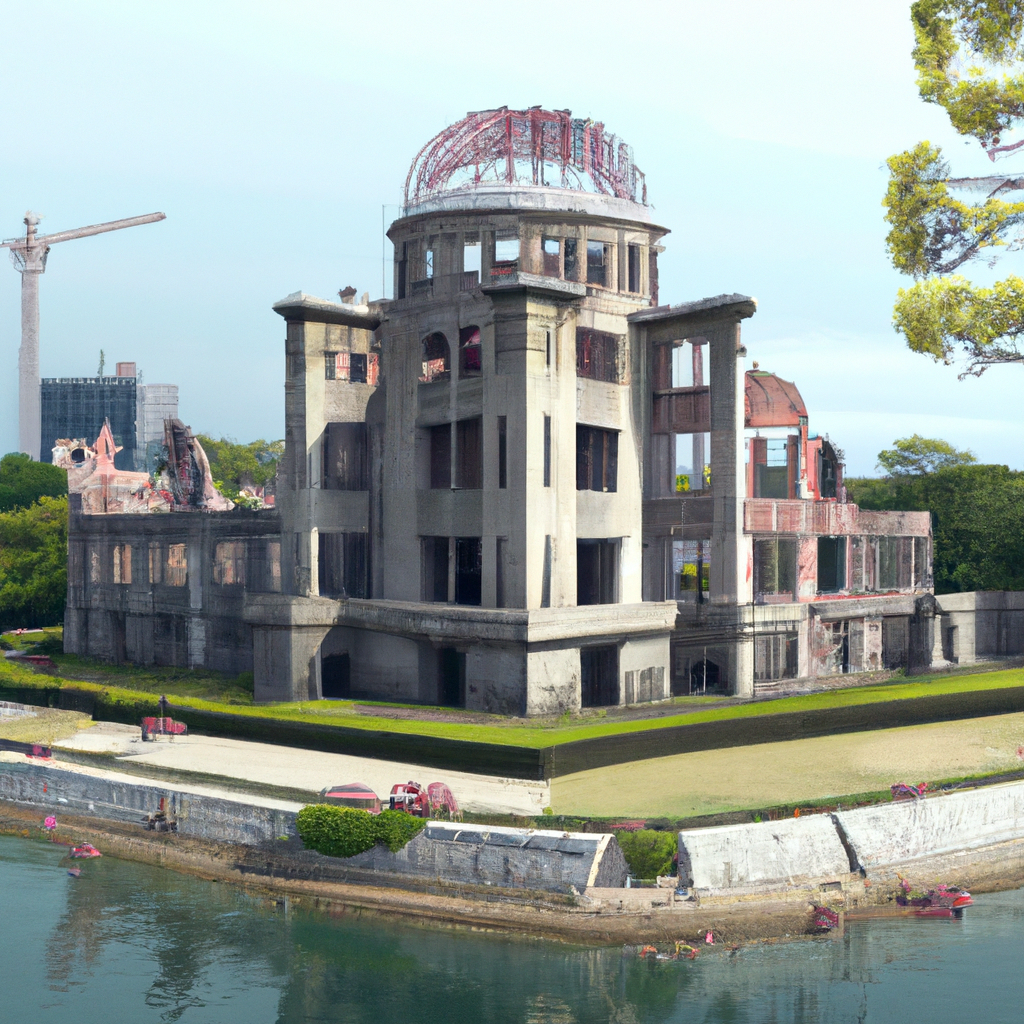 Hiroshima Peace Memorial Park
Hiroshima Peace Memorial Park is a must see sight when you are visiting Hiroshima. It commemorates the victims of the atomic bombing of Hiroshima on August 6, 1945 and serves as a reminder of the tragedy of war. The park covers around 120,000 m² and includes numerous monuments, memorials and other attractions related to the horrors of World War II. It is a solemn place to visit and it is a great way to learn more about this tragic event in history.
Atomic Bomb Dome

One of the key landmarks in Hiroshima Peace Memorial Park is the Atomic Bomb Dome, located just a few hundred meters from ground zero. The dome was originally the Prefectural Industrial Promotion Hall, and it is the only building that has been left almost entirely untouched since the atomic bomb attack on Hiroshima in 1945. It is now one of Japan's national treasures and a World Heritage site as well as an evocative reminder of peace for visitors to Hiroshima and its peace memorial park.

The structure is characterized by its dome shape, standing at about 2 stories high with curved windows, surrounded by a Japanese-style garden full of greenery. Inside, it houses information about the atomic bomb attacked on Hiroshima, along with exhibits on modern history and culture. Admission to enter the monument is free-of-charge and visitors can see some of the oldest architectural remains in western Japan — including a stone wall which still bears marks from the explosion. Additionally, although mostly in ruins, various remaining features such as red columns can be seen inside along with signs reminding visitors that all photographs taken there are prohibited in order to maintain respect for all those who died as a result of nuclear war.
Hiroshima Peace Memorial Museum

The Hiroshima Peace Memorial Museum is a must-visit when exploring Hiroshima. Located within the infamous Hiroshima Peace Memorial Park, the museum aims to honor those who lost their lives in the 1945 atomic bombing of Hiroshima. This museum provides visitors with an array of information. Through exhibits, photographs, and various artifacts illustrating the devastation of the bomb and its aftermath, this memorial is deeply moving for anyone who pays it a visit.

The museum houses various artifacts from those affected by the bombing — such as photos that survivors had taken before and after the bombing; clothing charred by the resulting heat ray; letters from survivors; sketches from victims; items that were discovered surviving in their original state following radiation exposure; and architecture destroyed by t he blast . Upon arrival to this museum, visitors will be handed brochures containing a timeline of events leading up to atomic bombing day — which can provide further insight into related details.

Not only does this memorial serve as an educational experience to visitors, but also serves as a site of meditation yearly during memorial services held on August 6th — A-bombing day. If one chooses to pay tribute at this site while visiting Hiroshima, they will surely gain an even more profound understanding of Friday August 6th's unfortunate past in Japan's history.
Miyajima Island
Miyajima Island is a must-see destination for anyone visiting Hiroshima. Located in the Setonaikai National Park, the island offers stunning views of the sea and surrounding mountains. The island is famous for its iconic shrine, the Itsukushima Shrine, and its giant, towering torii gate. It's a great place to relax and take in the stunning beauty of nature and Japanese history. Let's explore what you can see and do when visiting Miyajima Island.
Itsukushima Shrine

Miyajima Island is a popular sightseeing spot in Hiroshima Prefecture and is accessible via ferry from the nearby port city of Hatsukaichi. The island is known for its beautiful scenery, with its forests, hills, sea, and mountainous landscape, as well as its religious sites. One of the most prominent attractions on the island is the UNESCO World Heritage Site "Itsukushima Shrine" (厳島神社), dedicated to Shinto deities.

The shrine is famous for its iconic red "floating" torii gate that appears to be rising out of the sea during high tide. The structure, built almost 1,500 years ago, was originally thought to have been designed by Taira no Kiyomori, a powerful samurai general who ruled Japan in the 12th century. The shrine complex also consists of a prayer hall (Nohkan) containing several gates enclosing verandas and corridors as well as several other structures such as prayer halls and a five-storied Guan-Do Hall with three stages that were used for Noh performances pastimes among ancient warriors across Japan centuries ago. Tourists can explore these structures which are all connected by boardwalks which symbolize their own "bridge to heaven".

Additionally, visitors can observe prayers taking place or participate in activities such as making offerings at shrines or sailing on small boats in order to pay their respects from different angles including from aboard a boat tour around Miyajima Island.
Daisho-in Temple

Daisho-in Temple is a popular sightseeing spot on Miyajima Island in Hiroshima Prefecture. This ancient temple complex, first established in 806 A.D, is the main religious site of the Shingon sect of Japanese Buddhism and consists of several buildings, including the main hall and 11 secondary halls.

The most impressive feature of the main hall is its nine-story pagoda that stands at 33 m (108 ft), making it one of Japan's tallest wooden structures. Inside the pagoda are many sacred Buddhist statues and artifacts including Sakyamuni enshrined in a dark and mysterious atmosphere. Above ground there are more than 1,500 stone Buddhas while underground is a network of tunnels leading to tombs as well as shrines with treasures collected from many countries outside Japan over time.

The large grounds are dotted with numerous ponds, forests, streams, gardens and moss paths that have been carefully maintained over centuries by the monks who live here. You can also find plenty of souvenir shops and cafes for refreshments which make this a great destination for traveler's looking to explore traditional culture combined with natural beauty on one beautiful island in Japan.
Mt. Misen

Located on the secluded Miyajima Island in Hiroshima is its most prominent feature, Mt. Misen. It stands at 535 meters tall and is a popular destination for hikers who come to appreciate the lush, primeval forest and unhindered view of the Inland Sea.

A 20-minute cable car ride provides access to Momijidani Park, with several hiking trails along with some interesting monuments built over centuries by monks. The Summit Observatory can also be found near the peak which provides panoramic views of Miyajima bay and mainland Hiroshima.

Mt. Misen is a place steeped in history and legend, as it was first founded as a training ground for Shinto priests by Kobo Daishi (Kukai) in 806 A.D., so much spirituality lies within these mountains today. Shoyoen Garden at the center of Misen is said to be the honored site where monks have meditated during training since ancient times, making it an unforgettable experience for travelers looking to connect with Japan's past.
Hiroshima Castle

Hiroshima Castle, also known as Carp Castle, was established by Terumoto Mori in 1589. It has served as a nuclei for the development of the city of Hiroshima, and it is one of Japan's most famous feudal castles. The original castle was destroyed during the atomic bombing in 1945, but it has since been rebuilt and is a major tourist destination.

The reconstructured castle stands five stories tall and shows off its intricate white interior walls and traditional architectural elements. Inside the castle grounds are the former residences of Hiroshima's ruling families, the Museum of Hiroshima Castle History, and an information center. Hiroshima's symbol Oyster Sheller Monument can also be seen here. Visitors can learn about local history at the exhibition halls inside the museum that feature reconstructed buildings from before 1945 as well as replicas of building decorations.

The perfect timing to visit Hiroshima Castle is around spring or autumn when cherry blossoms bloom on its grounds or when colorful leaves fill up around this iconic historical site during autumn foliage season. The view created by these natural beauties combined with this classic Japanese castle will make your sightseeing experience in Fukushima unforgettable.
Shukkeien Garden

Located close to the Hiroshima Peace Memorial Park, Shukkeien Garden is a beautiful oasis of tranquility and peace in the bustling city. The traditional Japanese garden contains hills and valleys, a waterwheel-fed pond and several cherry blossom trees. The area features various rock formations made from carefully selected stones from distant places like Yanai City, which is about 200 kilometers (125 miles) away from Hiroshima.

The garden takes its name from one of its main features – the sand island in the middle of the pond. Shukkeien roughly translates as 'shrunken scenery' and aptly describes how this small-scale landscape has been designed as an emulation of natural scenes. Although small enough to explore in just an hour or so, many visitors find themselves happily spending many hours here simply soaking up its peaceful atmosphere.
Hondori Shopping Street

Hondori Shopping Street is one of the most popular attractions in Hiroshima. Stretching south from the Hiroshima Peace Park and crossing the Red Brick Warehouse, Hondori is one of Hiroshima's main shopping streets and it is home to a wide variety of shops and restaurants. Along this pedestrian-friendly street, visitors will find clothing stores, souvenir shops, drugstores, cafes, convenience stores, appliance stores and more. Hondori Shopping Street also features large department stores like Mitsukoshi (at the end of the street) that offer a great selection of goods and services.

If you're looking for something special – be it traditional gifts or crafts – don't miss out on the Buxommo Ichiba in front of the A-Bomb Dome Peace Memorial Park on Hondori Street. It is a market where merchants gather to sell high quality traditional items such as textiles and ceramics as well as specialty dishes made with local ingredients unique to Hiroshima Prefecture. With its lively atmosphere filled with laughter and music, Buxomno Ichiba is worth checking out if you have time!
Hiroshima City Museum of Contemporary Art

The Hiroshima City Museum of Contemporary Art is a rewarding stop for those interested in modern art from Japan and around the world. This museum features both permanent collections of international and domestic contemporary art, as well as regularly changing exhibitions of artwork spanning multiple genres. The focus is primarily on modern art, which makes it an excellent place to gain insight into Japan's artistic development during the postwar era.

The Hiroshima City Museum of Contemporary Art also offers a variety of educational opportunities for adults and children alike. There are various workshops and public lectures held throughout the year that use a range of visual arts for exploration into relevant social and political issues like peace and international culture. Additionally, visitors can purchase tickets to film screenings from any number of countries around the world.

In addition to its ever-changing lineup of exhibitions, performances, and lectures, this museum also contains three lovely courtyards featuring sculptures by artist Takashi Kuribayashi, whose work often explores themes related to life in post-atomic bomb Hiroshima. Be sure to stop by if you have time during your stay in Hiroshima!
Hiroshima Prefectural Art Museum

A visit to Hiroshima Prefectural Art Museum is a must for art lovers in the city. Located in the heart of downtown Hiroshima, the museum is home to important collections of modern art from around Asia and Europe. Here, you can admire paintings and sculptures from famous artists such as Claude Monet, Henri Matisse, and Pablo Picasso. The museum also hosts international exhibitions and special events throughout the year. Admission is free for children under elementary school age, those with disabilities and their companions, on special occasions or for other discounts given by the municipal government. A wide variety of both permanent exhibits (free) and special exhibitions offer an in-depth exploration into modern art. This museum is a great place to learn more about Japanese culture through its diverse collection of work from some remarkable artists. Visitors can also view a selection of artifacts dating back to ancient Japan.
Hiroshima City Zoo

Hiroshima City Zoo is a must-visit on any trip to Hiroshima. Located in Hiroshima's city center, this zoo is home to a host of different creatures and plants. Visitors can find various species like lions, bears, tigers and foxes, as well as other popular animals such as seals, penguins, koalas and monkeys. Besides the main attraction of the animals, there's also a observation building from which you can watch the animals from above. The zoo also features a petting zoo and special events such as wildlife demonstrations, bird shows and live music performances. There are plenty of shops for souvenirs and refreshment stands for when you get hungry during your visit. The grounds are well-maintained with plenty of areas for admission. Whether you're looking to admire rare amphibians or spend a delightful day outdoors with family or friends –Japan's oldest zoological parks offers something for everyone!