Hey guys!I'm Rin, and I manage this blog named【Eat, Play, Travel】
In this article, I introduce an Italian restaurant in Saijo City 🇮🇹 .
The restaurant is called "Restaurant Cafe Bordeaux(ボルドオ)."🍽
You can have a nice, good, stylish lunch here❗️
The kinds of dishes are soooo much ! You can come here again and again to eat all of them.
Let's see the information about The Restaurant Cafe Bordeaux, and their lunch set! 😇
"Restaurant Cafe Bordeaux" is a Popular Italian Restaurant in Saijo
"Restaurant Cafe Bordeaux" has opened since October, 2018.
They are very popular since they opened.
The chef is a manager of the Italian restaurant named "pasta amare" near Hiroshima University.
"pasta amare" is also famous more than 20 years. The manager had many experiences.
The location is not so easy to find. You can follow Google map from here 🙂
It is located at the middle of residential area. When I found it here, I was very surprised. hehe
The Lunch Set is Delicious & Good Looking & Kind to Our Wallet.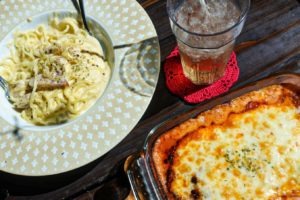 The menu is like the menu of "pasta amare," and there are some kinds of row pasta dishes.
And also, there are not only pasta, pizza, risotto, but also lasagna, meat dishes, and so on…
It took a while for just seeing all menu. 😂
All of them looked nice, so you must think that you would come here again to eat all !
( Ah, They are good at business…)
I ate the lasagna, and my friend ate pasta with Sake source.
The Lunch Set included main dish, drink (you can drink any cup), salad, and bread.
At this time they served croissant as bread. It was veryyyyy good.😋❤️
When I ordered lasagna, they told me that it would take time, but they served it to me after 5 mins, they served pasta to my friend.
The pasta inside lasagna was sooo sticky, had a lot of cheese, then it was a little bit heavy to eat alone.
I think if you share lasagna with your friend, it is better.
You can see more menus and pictures from below links. 😇
Information(Time, Location…)
Name:ボルドオ(Restaurant Cafe Bordeaux)
Time:11:00-15:00 & 18:00-21:00
Date:Every Day
TEL:090 1332 0999 (I could not call them 😭 But I could have linch without reservation.)
Address:1-26-16, Kamiichi Town, Saijo, Higashi Hiroshima City, Hiroshima
Message From Rin
I introduced "Restaurant Cafe Bordeaux" today. It is an Italian restaurant which is famous since they opened. You can eat nice Italian lunch here 🙂
In this blog, I write about "eat" "play" and "travel."