Hey guys!I'm Rin, and I manage this blog named【Eat, Play, Travel】
If you …
✅ have a plan to study at Chulalongkorn University,
✅ consider if live in CU iHouse or not,
✅ and would like to know about the life in Chulalongkorn University
I recommend you that you read this article👍
You can get information about CUiHouse, which is the dormitory for international students at Chulalongkorn University❣️❣️❣️
What is【CU iHouse】
【CU iHouse】stands for Chulalongkorn University International House.
It is the dormitory for international students who go to the Chulalongkorn University.
It was built in 2014, so very new & clean.
They have 26 floors, 846 rooms, two common spaces on 1st & 5th floor, easy kitchens, and laundry machines.
You need key to enter the entrance, and use elevators. Security stay there 24 hours.
Your lives are very secured if you stay in this building.😇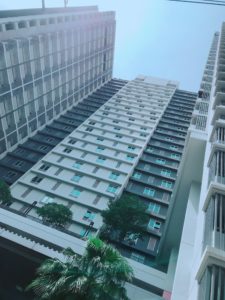 There are some kinds of rooms, and the fee is depends of the room style.
You can check rooms and feel from here▶️▶️About CU iHouse
Facilities of【CU iHouse】
Facilities of the room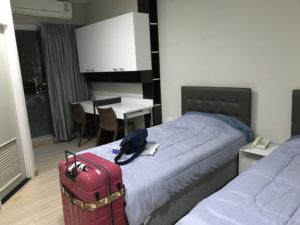 I had stayed this room with my classmate, a Japanese girl from the same university of mine.
This rooms has just this room and bath room.
In the room, there are
・Two beds, two sets of bedding
・Two desks
・Two shelfs above desks
・Curtain
・Phone
・Refrigerator
・Two closets
In the bath room, there are
・Shower
・Toilet
At the balcony, there is
・A place to hang out the laundry
So, I could start to live here without buy any furniture❣️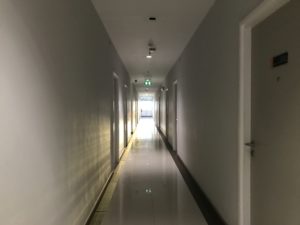 Cleaning Services for Free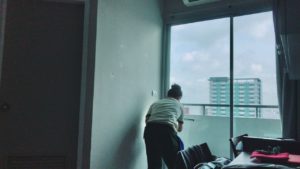 They served us Free Cleaning Services twice a week!
I hate cleaning, so it was very helpful…
They vacuum, wipe the window, and even organize our stuff.
One of residents have to stay there during cleaning for security.
Common Space on the 1st & 5th Floor
They have two common space on the 1st & 5th floor.
On the 1st floor, anyone can use the common space without key. You can use here as a waiting room.
There are some chairs & tables, and this space's air conditions is managed, so you can stay here and feel comfortable.
On the 5th floor, there are outside space and inside space.
Inside Space has
・Laundry machines(20THB per once)
・Microwaves
・Easy kitchens
・Outlets
The number of laundry machines is less than 10. It costs 20THB per once, and you can only use 10 THB coins. Addition to that, you should buy and use your own detergent.
Outside Space has just some benches. You can feel cool at night😇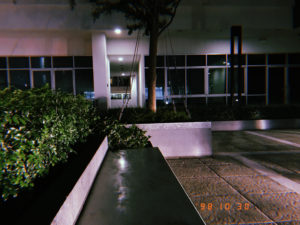 How to Climb Up the Roof Top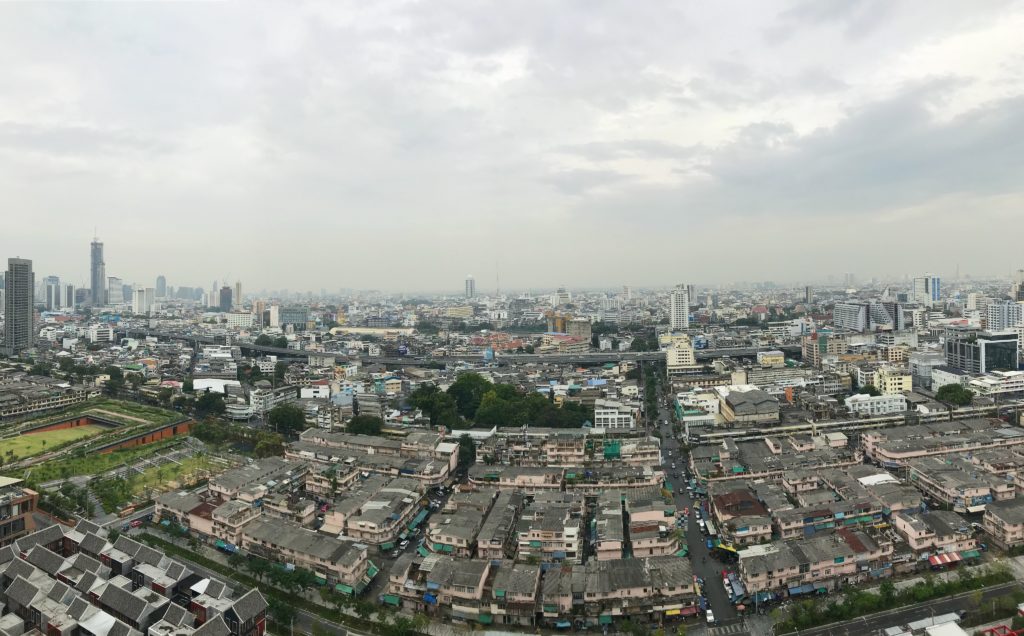 Officially, you cannot climb up to the roof top at CU iHouse, and elevators don't go up to the roof top floor.
But, we found how to climb up to the roof top❗️(Please don't use it 😇)
①Go up to the top floor using elevator.
②Go to the emergency stairs from the top floor.
③Go up to the roof top from the emergency stairs❗️
It's very simple, but there is an important notes.
②When you go to the emergency stairs, you should make the door (which is a between floor and stair) be open❗️
You cannot open this door from the emergency stairs's side. haha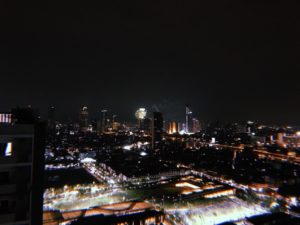 There are few people on the roof top, and you can refresh your mind.
However, there are surveillance cameras, so you would be scolded.
Merits to live in【CU iHouse】
I would like to tell you four merits to stay at CU iHouse ☺️
1. Very secured
In my country, Japan, people think that South Eastern Asian Countries are very dangerous.
And I felt it at Thailand.
Even if Bangkok, the famous sightseeing space, when you are careless, it might be dangerous.
Deciding & Contacting a room before you come to Bangkok is dangerous.
At this point, CU iHouse is very secured and comfortable.
When you enter the building and use elevators, you need a key.
And also, receptions desk is near the entrance, so stranger would be afraid.
And addition to that, security staff stay for 24 hours.👮‍♂️
All residents are related to Chulalongkorn University, so you can rely on them.
2. Making friends
A lot of international students live in CU iHouse.
You would make friends at elevators and common spaces❗️
Making friends is one of the most important part of studying abroad.
3. Easy Access to the University
CU iHouse is a dormitory for students, so it is very easy to access to the university.
You can walk in to the area of the university within one minutes.
But the Chulalongkorn University is huge, so they have some shuttle buses.🙆‍♀️
I belonged to Balac course, and Balac is located at the East Campus.
So, I used shuttle bus every day.
It takes about 10 minutes from CU iHouse to the East Campus by bus.🚌
It takes about 30 minutes by walking.
※ Shuttle Bus which is named Pop Bus has an app. It is very useful, so I recommend you install this.
4. Easy access to near facilities
Shuttle Bus are some kinds, so some bus go to the campus, and others go to the shopping malls, train stations, and so on.
It takes more than 30 minutes by walking and walking is dangerous because of the traffic.
So, it is very useful that you can go there by shuttle bus.✨
Demerits to live in【CU iHouse】
Next, I would tell you three demerits to live in CU iHouse
1. Not Thai Language Community
Basically, there are international students in CU iHouse, so they use English.
If you would like to learn & use Thai language, you may feel CU iHouse is not good for you.
2. Sharing Room
If you stay one room with your friend, you cannot keep your privacy.
I had a ver nice roommate, so I felt very comfortable, and I was not lonely.
However, one of my friends had a fight with her roommate and she moved to other room.
If you are not good at being someone always, or you really need your private time, sharing room might not good for you.
3. Kitchen Facilities
They have some easy kitchen facilities on the 5th floor, but there are only sink & microwaves.
They don' have stoves, or IH cooking heater.
If you really would like to cook something, you should look for other apartment.
Summary
In this article, I showed you
✅ Information of Chulalongkorn University's dormitory【CU iHouse】
✅ Merits to live in 【CU iHouse】
✅ Demerits to live in【CU iHouse】
Thank you very much!